So this was awesome.
Here's how it happened.
My sister and I left for the train station to get to Sydney. On the train we…um, read books. Of course.
Luckily, I'd left sufficient time to get lost, which we did – but only a little bit, and only because my map was confusing, okay? We ended up a few streets over before realising that the RIGHT way was where we'd been going to start with.
Never trust me with directions.
So finally we got there. And I want to live in the HarperCollins offices, just saying.
I spent a while looking at the beautiful view and the beautiful books, and trying to…erm, not be shy (people are scary, okay?). I couldn't take any photos because my phone had died…that's another thing. Never trust me with phones. I'm awful.
So you're just going to have to imagine that it was beautiful. Plus, there was chocolate and a dinosaur.
And here is where I start stealing everyone else's photos. This is Tim and Amanda and DINOSAUR.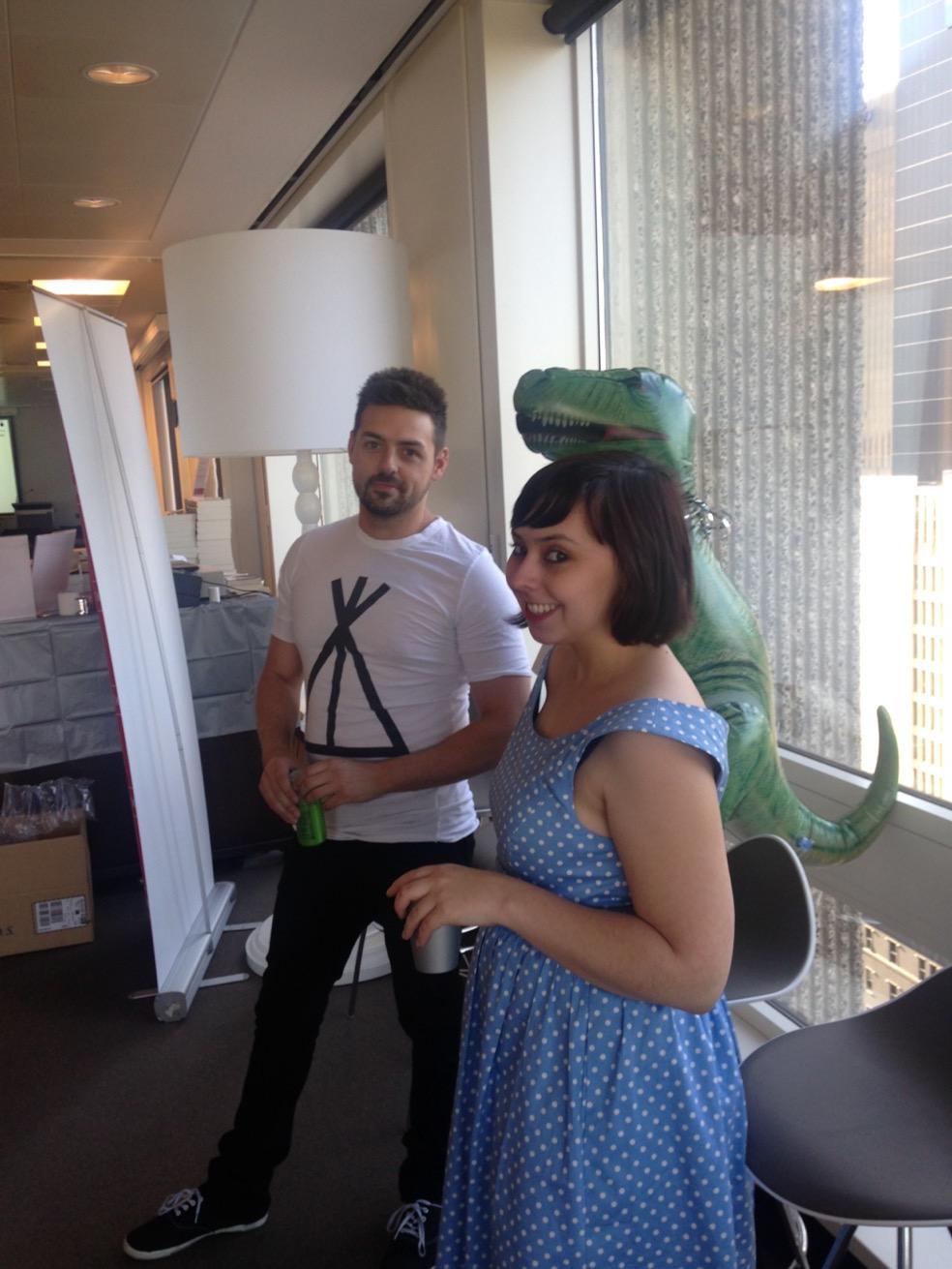 Then I met some awesome bloggers.
First I met Jess from Reading Dress, and I talked to her for a bit. Then I met Eugenia from Genie in a Book, and her friend Emily. We did some book swapping and it was awesome. And THEN I met Gina from Behind the Pages, and did some MORE book swapping, and generally everyone was just lovely. Gosh I love book bloggers.
I briefly saw Joy from Thoughts by J as well – unfortunately I had to leave so I didn't get to properly talk to her, but NEXT TIME 🙂
Here are the books I got (proper photos will be in my Stacking the Shelves post tomorrow!):
From Eugenia:
From Gina:
And then…it began.
There was trivia, there was publisher rivalry (HarperCollins claims their John Green box set is better than Penguin's because a) it's hardback and b) It has Paper Towns and thus the world's largest collection of Black Santas). There was talk of awesome books that are coming out soon. There was an outcry when Tim gave spoilers for the end of Disruption by Jessica Shirvington.
Tim and Amanda, by the way, are the funniest people ever. Just saying. Tim's fanboying was a joy to behold (I'm pretty sure he was the only guy there…it's a hard world).
There was also a page of awesome bloggers.
SEE ME THERE? DO YOU? I was so flipping excited.
After that was the author panel.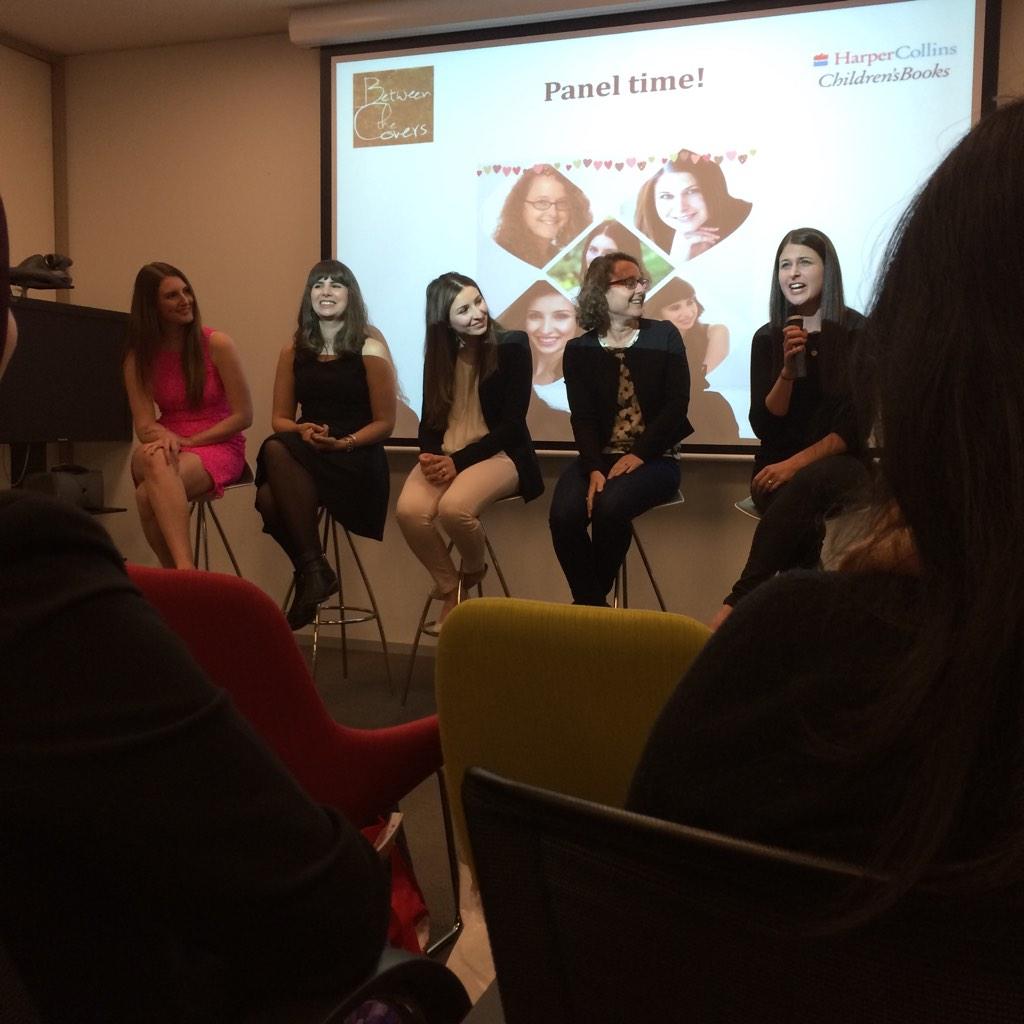 Some of the questions were about what goes into making a book boyfriend. Some were about putting your work out there, or stories/novels the authors had written that would never see the light of day. All of the answers were hilarious/thoughtful/clever. They all spoke so well!
Then some author signing!!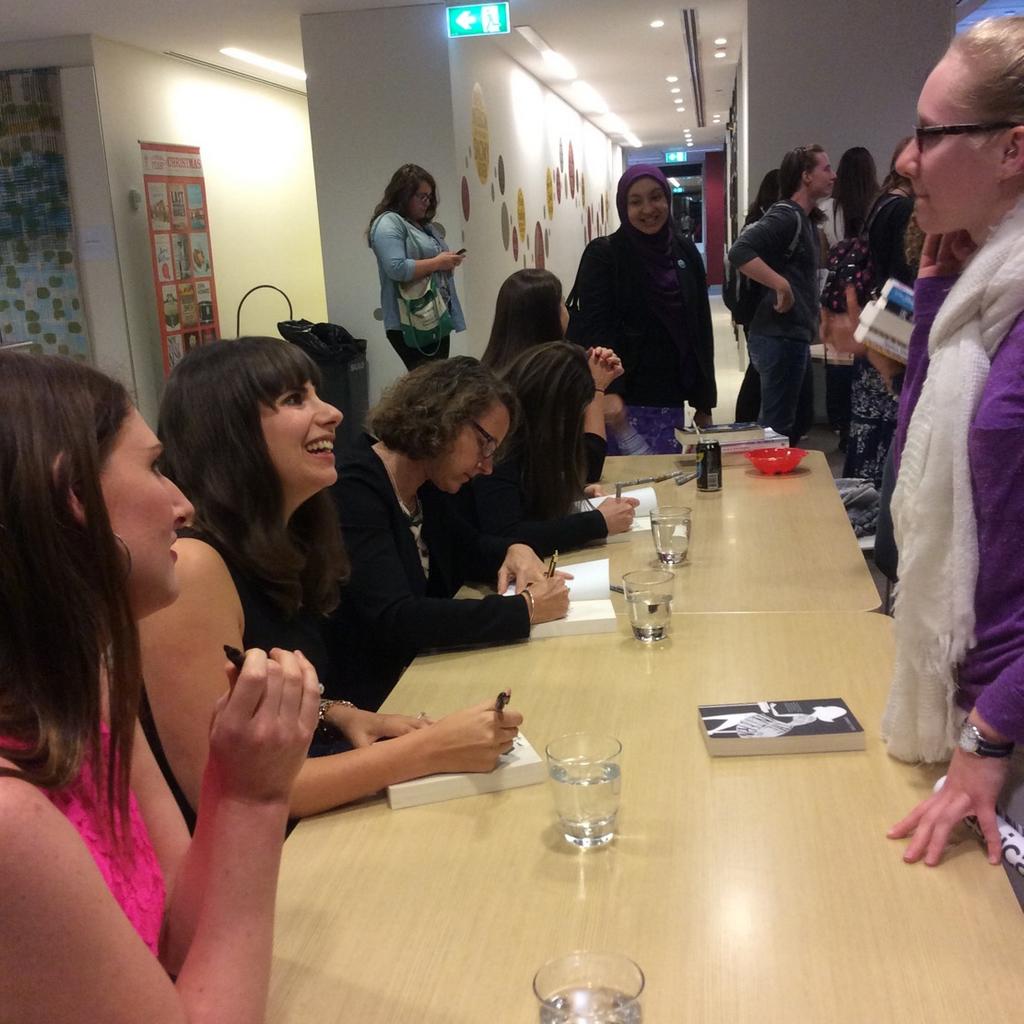 This is a sneaky pic that I didn't know about (I'm on the right with the purple and the weird expression). But anyway, I talked to Gabrielle Tozer, who was absolutely LOVELY. I handed her my red copy of The Intern (THAT'S right, I have a red one), and then she said "Are you Emily?" Which. You know. Was awesome. And she asked me how my writing was going, and how I manage to do everything (*whispers* My secret is that I have a Time Turner). But yep. She was lovely. And so that was the first book I ever got signed in person!!
And then I got Disruption and Corruption signed by the lovely Jessica Shirvington. She also signed Between the Lives but my sister is still reading it so I have no photos 😛 My copy of Corruption was the first Jessica ever signed, so THAT'S EXCITING.
I don't know if you can read them (my shocking photography again) but HOW PRETTY ARE THE PENS? And in the right corner of Corruption it says "1/1" because…it was the first. Come on. I have to brag about it.
We also got a poster!
So now I have to find a spot in my room to put the beautiful thing.
AND LOOK HOW LOVELY THEY ARE TOGETHER.
Maggie's looking at herself. "Hello, badass Maggie." "Hello, badass Maggie."
Ignore me. It's late when I'm writing this post.
IN CONCLUSION.
BTCYA was such an amazing night – I'm so happy to have met Eugenia, Gina, Emily, Joy and Jess, as well as the authors. And not forgetting Amanda and Tim, of course!
There are so many books coming up in 2015 that I'm excited to read.
Photo credit to Joy @ Thoughts by J and the HarperCollins Twitter team (find them at @harpercollinsYA).
Have you ever gone to a bookish event like this? Were you as nervous as I was at first? PEOPLE ARE SCARY OKAY. (they're actually not – everyone was lovely. I'm just used to my own company…and my cats)